ZENITH PHONEVISION By Harry, N9CQX
Sometime in 1951 I learned that a family who lived on our street had been selected to be part of a television viewing test. The buzz among the neighbors was that the lucky residents, who lived at 1741 W. Nelson Street, on the north side of Chicago, were the recipients of a new Zenith television set and a glistening new rooftop antenna system. Not everyone owned a TV set back then and it would be another four or five years before my family did. I had a couple of friends in the neighborhood that had TV sets. I knew just the right times to drop in to visit them. My visits were calculated as to who would normally watch certain programs. I visited brothers Scotty and Tommy at certain strategic times, such as when the Lone Ranger just happened to be on TV. Their family had a tall console B&W TV that featured a tiny screen which was only about 5 inches across. I know that might not sound too exciting today but I can assure you that it was magic to a little kid. Later, as televisions started appearing in other households I perfected my visiting schedule. Gabby Hayes at Danny's, Gene's Melody Ranch at Cookie's, Space Patrol at Butch's.....you get the idea, but I am straying from the Phonevision subject.
I'll offer a little history of the Zenith Radio Corporation first. The story starts over a hundred years ago. There were two ham radio buddies, Karl Hassel and Ralph Mathews, who, in 1918, formed the Chicago Radio Labs. In 1921 they took on a wealthy investor, Eugene McDonald Jr. Chicago Radio Labs then became a new company with a new name: Zenith Radio Corp. The name Zenith was concocted from one of the founder's ham radio call which was 9ZN. Zenith from the start had a top rated reputation for the radios that they manufactured. They were one of the successful companies that weathered the depression. Zenith's quality went in before the name went on as they put it. They manufactured table radios from the beginning and followed with chairside radios and consoles. They made the first portable radio which was a hit with the picnic and beach goers Their handsome consoles featured huge trademark black faced airplane dials. They made record player-radio combos and television sets. During WW2 they were kept busy with government contracts. Ask Bob, W9RAN, about his rare military Zenith portable. They also were into early innovations for remote TV controllers. One controller employed a melodic tone and I had a friend who kept getting his channel changed because his kid had a toy xylophone that would chime the same notes as the remote.
I didn't learn anything more about the TV test family or the TV test itself back in 1951. It sounded like a fairy tale to me until a number of years later. I came across an old issue of Life Magazine that explained what the test was all about back in 1951. The February 5th issue of that year featured an article titled: "Chicago Test of Phonevision". The article explained that 300 families in a Chicago neighborhood were selected to be part of a test by Zenith. The participants received a new Zenith or other brand of TV that was specially equipped to receive and decode scrambled pictures. A device was hooked up to their telephone along with their TV. The viewing household needed to call the Zenith-Phonevision switchboard and request that the device be activated in a manner so as to decode or unscramble the television broadcast. The test families had a program guide that indicated when a scrambled broadcast (such as a movie not available on regular TV) was being broadcasted. In that article Zenith expressed that Henry Ford might have put the American public on the road but Eugene McDonald, Zenith's President will bring the public back into the home.
The Life Magazine article mentions that skeptics said the public will never pay for TV programs. Neighborhood motion picture theater owners protested fearing that if whole families can see a good movie for $1.00, they won't spend more to go out to a movie.
The pay-TV idea was kicked around for many years. The new TV medium was costly and some thought that advertising was the way to pay for it while others believed that advertising alone will not be sufficient, especially in sparse viewing areas.The Museum of Broadcast Communications, located in Chicago, states that Zenith was experimenting with toll or subscription TV as early as the1920s or 1930s but a Zenith publication states that their pay TV experiments actually started in 1931 and that they petitioned the FCC in 1949 for permission to test it over the air.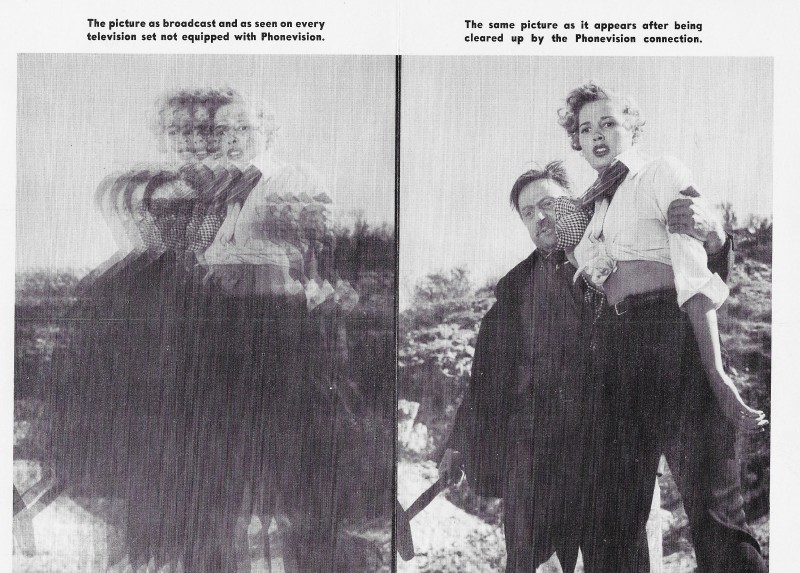 Zenith mentions in early ads that no decoder can be built to break their code. But, according to Joel Sternberg who wrote "Television Town" some inventive rascals simply by looking through the blades of a fan caused the distorted pictures to be unscrambled.
Let's get back to Phonevision and what I have learned about its history. The Zenith Phonevision test of 1951 and other methods of Pay TV have captured my interest. I have acquired several documents and various publications that have given me additional information regarding Zenith and/or Phonevision. Here are condensed summaries of those articles or tidbits from various publications in chronological order:
1931 Zenith states that their Phonevision work began in 1931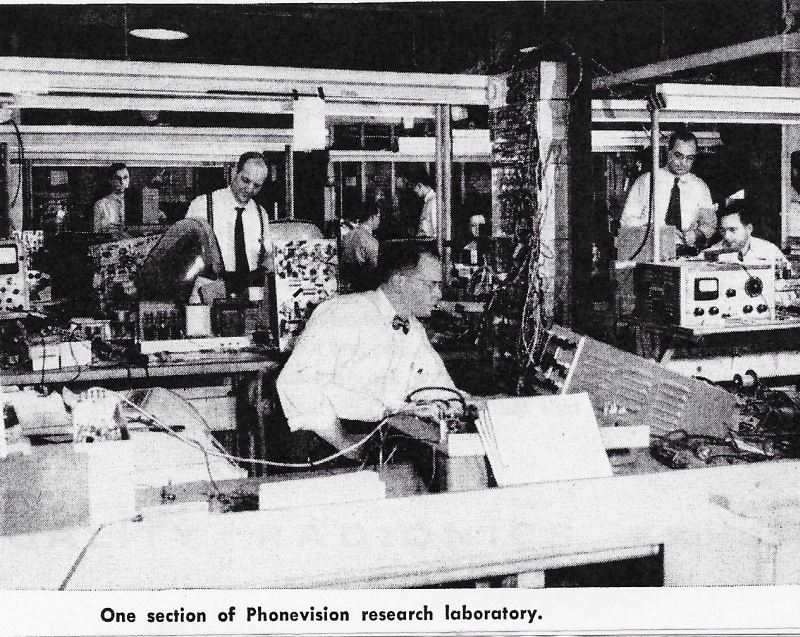 1939 Zenith experimental station, W9XZV, is the nation's very first all electronic TV station, On February 2, 1939 they begin their broadcasts on channel 1, later shuffled to Ch 2. They continue to broadcast until July 5 1953 when the FCC moves WBBM to Ch 2
1940 Zenith experiments with color TV
1947 The Phonevision name is selected and trademarked by Zenith as Zenith announces the successful development of Phonevision.
September 1947, Radio News Magazine: reports that a recent demonstration of Zenith's Phonevision did not attract much attention. Radio News also compares Phonevision to "Pig Squeal" (a former similar idea with distorted radio broadcasts). The pay-radio idea was rejected by the FCC because they deemed: "…it would restrict radio's use to persons with extra cash and therefore was not in the best interest of the general public."
1949 January: There are 1 million TV sets in use in the United States
December: Radio Electronics Magazine Zenith announces that Phonevision will be tested in early 1950.
1950 January: There are 3.8 Million TV sets in use in 1950.
Early booklet contains an announcement and details of the Zenith Phonevision test : The television sets will be provided by Zenith to 300 families. They will pay $1.00 for each decoded program or movie.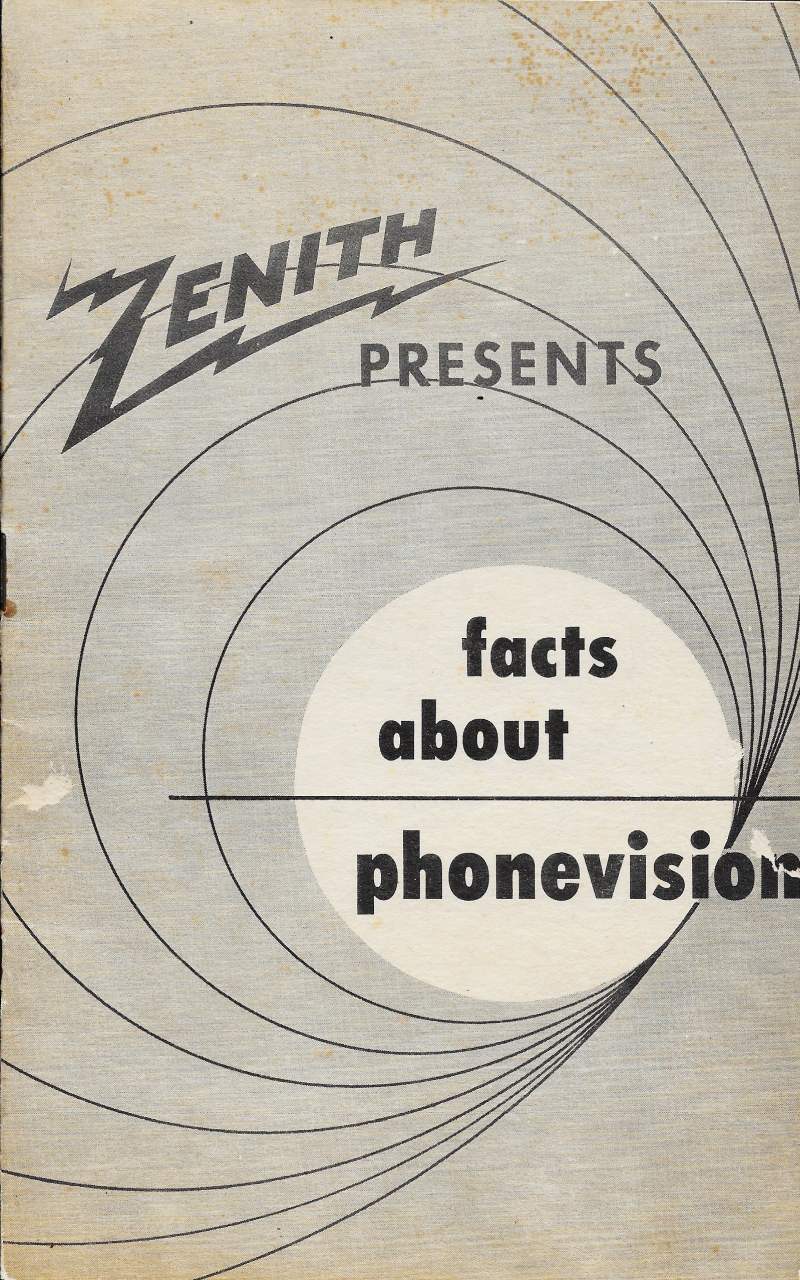 Zenith states that the phonevision circuitry can be installed into TVs on any production line for only $10 per set.
May 1950 booklet-Zenith indicates that the test is authorized but not for commercial operation.
May 1950 follow-up booklet. Another booklet states the test will commence in October of 1950.
May, 1950 Radio-TV News: Zenith receives authorization to conduct a series of Phonevision tests in Chicago. Regarding telephone party-lines, different frequencies will be used for transmitting key signals to two different subscribers on the same party line. Zenith converter boxes on the TV are connected to the phone line. (In future times Zenith will make converter boxes for cable TV)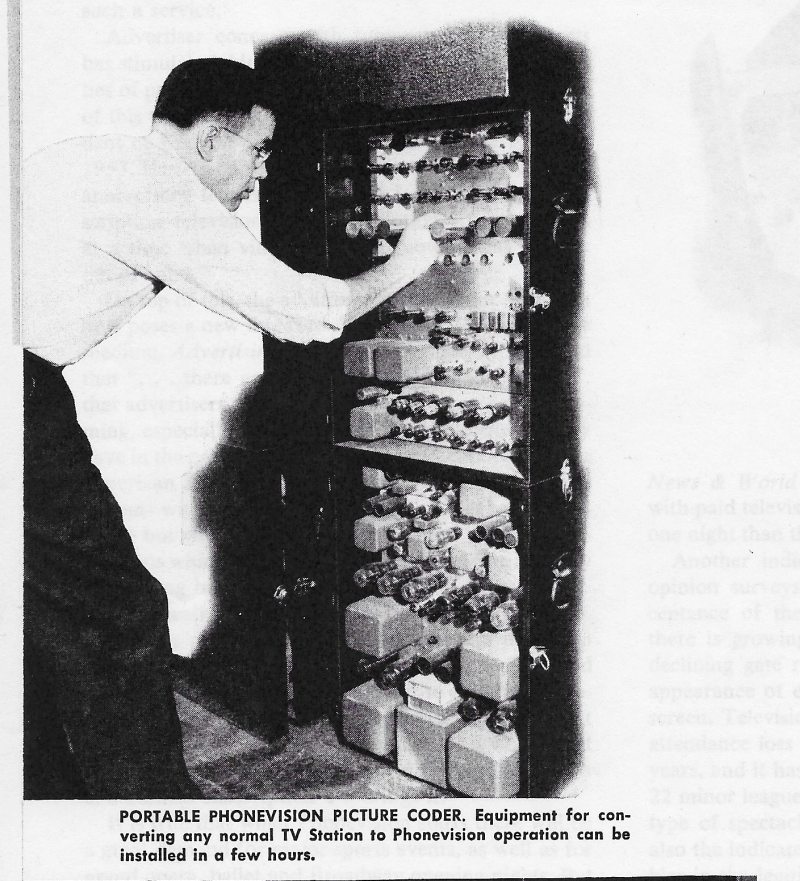 Estimates indicate there will be 8.7 Million TV sets in 1951
1950 Zenith Corporation Booklet: "Facts about Phonevision"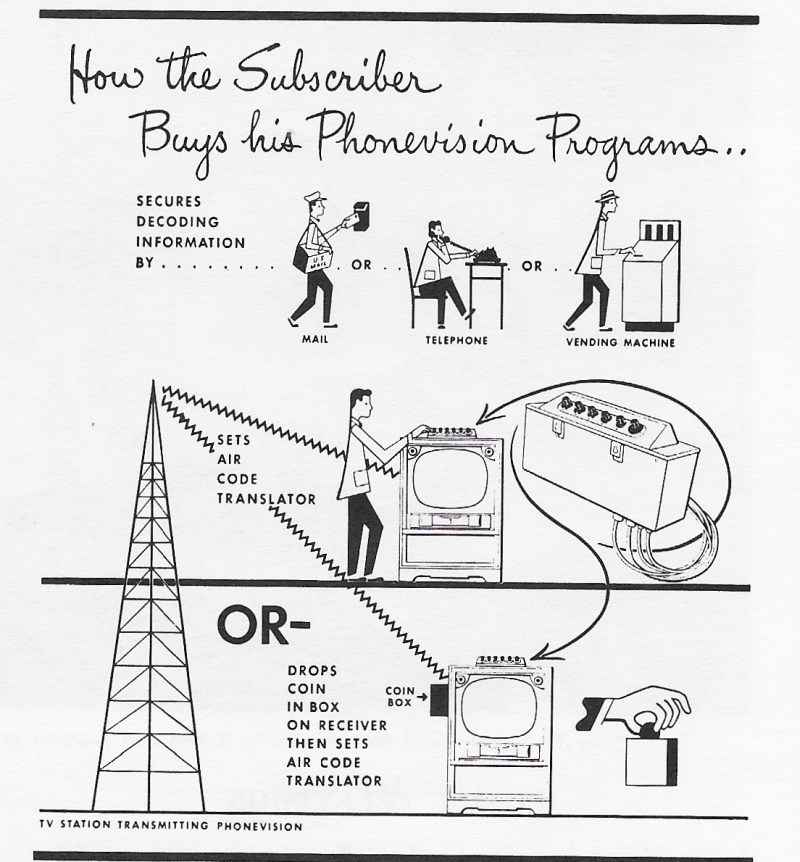 Zenith presents a case for Phonevision- They state that advertisers are footing the bill for TV programs. Zenith asks, Can the limited range of a TV signal provide enough consumers? Phonevision will provide the economic shoes. It was developed in the past 19 years and was privately tested in Chicago for three years. Major Edwin Armstrong says that Phonevision is a thoroughly workable and practical system.
A Zenith survey has revealed, by regions the percentage of persons who are willing to pay for first-class feature movies and other costly programs:
Pennsylvania 49% New Jersey 52% New York 64% Chicago 70% Los Angeles 73% Connecticut 76%
The FCC has authorized a 90 day test by Zenith TV Station KS2XBS in Chicago.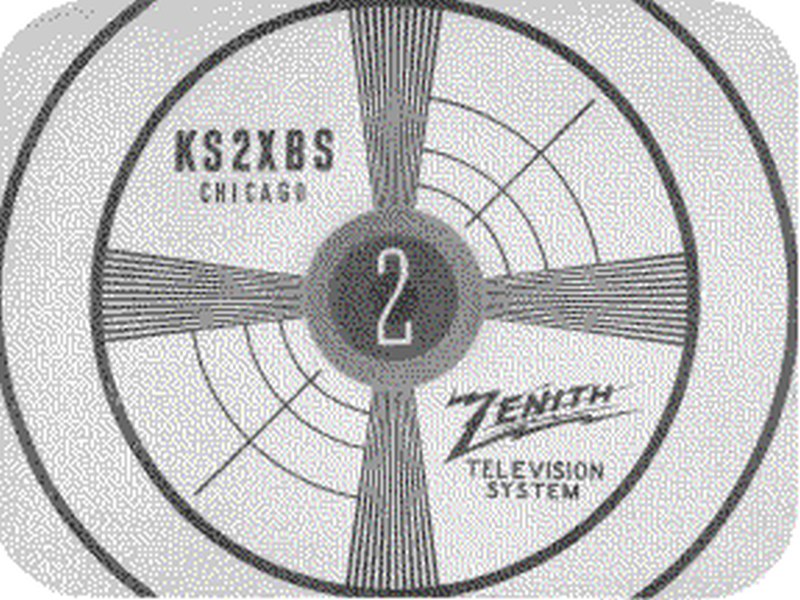 From the back cover of the Zenith Booklet:
"If broadcasting, as we know it, cannot provide the programs the American public wants to see, some form of box-office television must be found to supplement the present commercial sponsorship of commercial shows."-Wayne Coy, chairman, Federal Communications Commission.
1951 Zenith Phonevision booklet contains programs for Sunday March 4 to Saturday March 10th, 1951.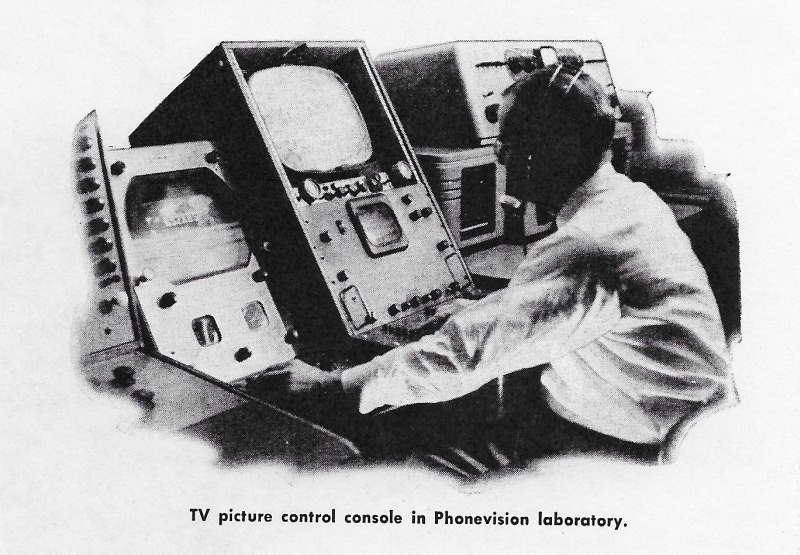 1953 Zenith Annual Report They claim thirty patents were issued regarding Phonevision plus one new patent eliminating the use of telephone lines to decode a signal. The viewer calls in for an authorization code and enters it into a decoder box. By now there are 27 million TV sets in homes.
1954 Booklet, The Zenith Story Zenith says that in 1951 the Phonevision test utilized an antenna atop the Field Building.
Even if you are from Chicago, you might not know where the Field Building is. It is not the building on State Street that for many years was the location of Marshall Field's Department Store. The Field Building, is still there today and it is a building across the downtown area. It is 535 feet tall, an imposing height in 1951 and it is located at 135 South LaSalle. If you look down LaSalle from the front sidewalk, you will see the Board of Trade Building just a few blocks to the south.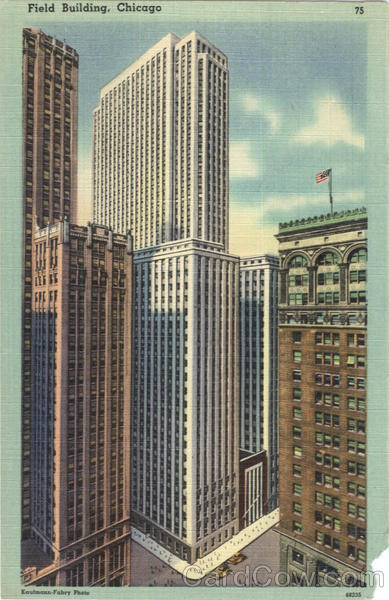 Zenith negotiates a foreign contract for Phonevision in Australia and New Zealand in October of 1954.
1961, 1962, 1963 and early 1970s Zenith Phonevision tests are conducted in Hartford, Connecticut over WHCT-TV. (Connecticut location chosen because of 1950 survey mentioned above regarding large percentage of residents willing to pay for first class movies??)
1986 Zenith tests pay-TV in Traverse City, Michigan but this time with coaxial cable.
While Zenith was involved with testing their Phonevision various other interests were involved with their individual concepts. RCA had an interest in the Skiatron Company. Their system was called Subscriber-Vision. They mailed out coded punch cards to be placed into a device that unscrambled the picture. When the card was turned back in it would indicate how many programs were bought and viewed. Installation and rental fees applied. December 1950, Radio Electronics Magazine announced test broadcasts at WOR-TV, NYC called "Subscriber-vision by Skiatron Electronic TV Corp utilizing a Plastic card decoder. (The Museum of Broadcast Communication says that this test was conducted in 1953)
The Paramount Picture Corporation bought 50% interest in International Telemeter Corp. in May of 1951. Paramount Picture Corporation's International Telemeter used a coin box for their early tests. An installation fee applied. In February 1952, TV Obscurities says Los Angeles TV station KCLA, CH 5 ran a subscriber TV experiment with six sets and later in 1953 there was a test conducted in Palm Springs with 70 households with coax and Telemeter boxes. Telemeter skated FCC regulations by only using closed-circuit tests. They eventually claimed a technical success and also ran 5 year tests in Toronto Canada but that was deemed a commercial failure.
1952 Howard Sams Publication: Pay as You See TV Provides an explanation of subscription TV
1954 WOR-TV (New York) tests scrambled signals with over-the-air decoding although in this test the public was not involved.
1955 May 7th TV Guide Magazine In an effort to decide if it would be in the public interest, the FCC solicits feedback about pay-as-you-see or Subscription-TV.
1955, May, Radio Electronics Magazine: "Tollevision" an editorial by Hugo Gernsbeck, explains that there are three systems of Pay-TV. 1) telephone decoder. 2) coin machine. 3) punch card. Hugo asks: "If Tollevision becomes successful, will it wipe out free TV?" Hugo goes on to forecast that TV will someday be a picture-on-the-wall.
1957 The FCC agrees to allow a 3 year trial period for any pay-TV system. Telemovies VIT Video Independent Theaters of Bartlesville, OK conducts a one year over the air test. They charge a monthly rate for movies, some first run.
1962 Interesting concept-charge for the audio! June Electronics World: "New Pay-TV to be tested" The article describes a test over KTVR-TV, Channel 2, in Denver by TeleGlobe Pay-TV, MacFadden, Bartell Corp. The broadcasted picture was not scrambled but this concept featured paying for the missing sound on a phone line.
1964 Subscription TV (STV) conducts a 5 month test in Los Angeles and San Francisco.
1970's Newark, NJ WWHT and Los Angeles KBSG (Blonder-Tongue) conduct over the air experiments. Home Box Office a subscription Movie Service runs tests over Community Antenna TV
1980's I recall a UHF channel in Chicago in the 1970's broadcasting scrambled pictures. Lou, W9LRS, reminds me that it was WSNS, channel 44 and it was called ONTV. Soon there were black box decoder kits being sold as a means to bypass the subscriber fees involved. Lou, W9LRS, a retired WLS-TV Audio Engineer also tells me that WLS did a test in the early 80's with scrambled pictures called Telefirst
1982 October 9, TV-Guide Magazine: An article about CABLE-TV, "Pay money to watch TV-outrageous!" Although Phonevision tests were technically successful the expense involved was considered to be too high for commercial viability. (Padgett Peterson)
2022 The rest of this story is written by you, the reader.
When you first heard of Pay TV, did you think you would ever do so?
Are you paying for TV today?
---
Addendum:
When I wrote the article, I wasn't sure which of the two founders of Zenith had the 9ZN ham call. I discovered the answer in a 1977 issue of the AWA-Old Timer's Bulletin. Mathews had the 9ZN call which was the basis for the Zenith name. The short article about "Matty" also mentions that he was a naval officer in WWI and WWII with the rank of commander. I was pleasantly surprised to find that both the author, Leo Gibbs, and Matthews attended my high school, Lane Technical, in Chgo. N9CQX

---