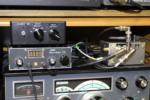 Jeff Covelli, WA8SAJ
Posted By: Bradley Stone (stonebs)
Just finished my first W9RAN Versa-TR Switch from Hayseed Hamfest and I put into a BUD box (tight fit).
I am using it with the Noveau-75 and my SDR-Play receiver & laptop, plus other receivers in a multi-coupler system I have here. The Noveau-75 now goes through the relay box and only the SDR and other receivers are used. The Noveau-75 receiver is "NOT" used. The R.F. switching I am not using, but I like to "hard' key it from my PTT box I built years ago and it works great! The muting of the computer is also very nice, and you could add a switch on the circuit board labeled "un-mute" and have it as a "spot" function.
The kit comes with all the parts nicely marked. I decided to install this into the metal box, but an open board should be ok for low power transmitters.
73, Jeff / WA8SAJ