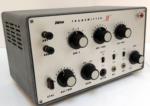 Posted By: Bradley Stone (stonebs)
Masamichi Yamamoto (Masa, AB9MQ) is a long-time check-in and contributor to the DX-60 net. This transmitter showed up on EBay, and Masa was lucky enough to have won it.
"This model TX-88 is prior to Mr. Takada JH1AMH's TX-88A model. This is very rare to find on the market. This is the original design on TX-88 series. TX-88, TX-88A, and TX-88D. It is interesting the final is 6AR5. TX-88A uses 807 which was commonly available as US army surplus in Japan. Later 6146 was used for TX-88D model.
Some day I will get TX-88D, but D model was so popular that there are abundant in JA market. On the other hand, TX-88 original is very rare indeed."
- February 24, 2021
TX 88 arrived.
After inspection, I did minor repair on broken crystal socket and lamp
holder.
I am awaiting for capacitor supplies from Justradios.com.
I am not quite sure if I should proceed for recapping.... This is
almost museum quality.... worth preserving the history...
I also got 1960s old Japanese electronics magazine which had an article
about TX-88.
TX-88 was made in 1959 by Kasuga musen by the original owner of Trio
(Kenwood) Mr Kasuga. The company changed its name around 1960 and hired
Mr. Takada, then produced TX-88A multi band AM transmitter.
Mr. Takada JH1AMH must have noticed that TX-88 did not quite match to
9R-42J (Similar to Lafayette HE-10) . It is much smaller than the
receiver. He must have wanted to develop 9R-59 (Lafayette HE-30) to
match with TX-88A (refined version of TX-88).
You may be able to see in the under chassis photo that bypass capacitors
(oil condenser) were made by Suzuki musen. It has a word "Tu Pa Con".
I heard this word when I was a child in Japan, but I forgot what that
means. I can not find the reference today.... May be it means oil
filled capacitor...
This Suzuki Musen still exist as a mom and pa electronics store. They no
longer manufactures anything. They just sell consumer electronics.