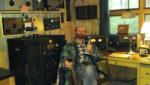 Net Control Steve Marquie
Your Site Owner may have provided you with a key, which you may enter here.
How to Donate
We appreciate your donations to Heathkit DX-60 AM Net, because without them this site would not be possible.
You do not need a PayPal account in order to donate with your credit card. Just click on the Donate button below. You will be prompted for the amount you wish to contribute.
---