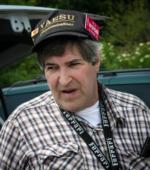 Pete was a frequent check-in with his Johnson Ranger & Hammarlund receiver
The DX-60 held a time of silence to observe the passing of Pete, W9RMB on the 10/25/2020 net. Pete was first licensed in 1973, and was active in both vintage sideband and AM modes from his shack in Glenview, IL.
"
"First licensed in 1973 as a novice for 2 yrs. Next license in 1997 as a Novice again. Moved up to Tech Plus then General then Advanced and finally Extra. My first interest in radio was building Knight Kits and Heathkits and of course the Allied Radio Catalog! I did manage to get a National SW-54 reciever in about 1956 and heard many hams and foreign broadcasts to spur my interest even more. I just have always had the interest through all of these years and finally have gotten active in my 50s !I'mgladI was able to qualify with at least a 13 wpm code test!!I managed to get WAS and DXCC awards with a WAC for good luck! I hope to add more countries to my list, possibly a WAZ and also improve my Morse Code profeciency. All my equipment is 25 to 50 years old ,but gee, it gets the job done and is fine with me. (I love the stuff) On Saturday mornings I can usually be heard checking in to the Midwest Classic Radio Net at 7:30 AM (Central) on 3.885 MC (AM only) with my Johnson Ranger and either a Hammarlund HQ-180 or a Hallicrafters SX-100 also the DX-60 net on Sundays on 3,880 mc. at 7;00 AM Mi. time. Mike N8ECR is the Net control and a pretty good one at that! There is also a newer net, The Vintage SSB Net. on Sat. after the Midwest net on or about 3.840mc. (Better not check in with a newer transistor only machine or you will be subject to much rath from all the other net members!) Pat WB9GKZ is usually the net control op. (See you there) They are all great guys, great hams and the nets are, as well.I guess my story is typical but I still am glad to have the chance to be a Radio Amateur. I enjoy the hobby and all the great people I am able to know.73 Pete"