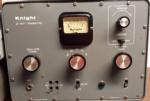 Several months ago, Dan Metro W8ICN, unexpectedly passed away. Dan was a very active ham, and he maintained quite an array of ham equipment, including a considerable number of "boat-anchors". A few of us local SE Michigan hams that knew Dan worked with his family to set up a local estate sale, over the past several weekends. Quite a bit of equipment did sell.
However, there remains considerable equipment that is still available for purchase from Dan's family. The remaining equipment, all in very good shape, likely will be of interest to the extended ham community that frequents the DX 60 Net; there are a few nice AM transmitters: BW 5100, Viking 2, Valiant, Globe, etc. and much more.
The included link above has the pictures/prices and contact details for purchasing any of the remaining equipment from Dan's estate.
The site is maintained by K8AGY, and it is kept up to date as pieces of equipment are sold.
Thanks for your consideration,
Mark Oleszkowicz
WA8UNL