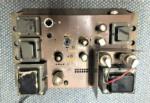 The Huron Methodist Church retired their 1950s carillon and have a rack and amplifier for sale.
Photos of the rack and amp shown below. I can furnish additional photos on request.
The audio amp has two separate power supply outputs, p-p 6CL7, p-p 6SN7, and p-p 807.
The brown rack cabinet has the standard 19 panel width and 61.5 inches of panel height, a back door with latch, and it's on casters. Also included is a recessed panel with a hinged lockable (I have the key) clear plastic front.
Offers requested for both or separately. .
Location is Huron OH, between Cleveland and Toledo on Lake Erie.
73, Jack, NI8N
Email: Ni8njack@gmail.com
Phone: 419-706-1308