K8PZ S-Match Tuner Project
Friends
0 Comments
01/23/2019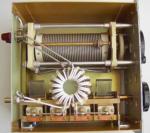 Steven, K8PZ, sent us this link:
"After an extensive research and experimenting I achieved the design shown in the above drawings of the Balanced Universal ATU System. To make it distinctive from other types of ATU's, I call my design S-Match©. The system is intended to accommodate balanced antenna systems transmitting on a very wide frequency spectrum, ranging from 160 m band up to 10 m band. Likewise, it is able to take proper care of impedances and associated reactances ranging from less than 20 ? and up to 3000 ?. Built with the proper components, it is able to transfer loads of more than 1000 Watts. This balanced antenna-tuning unit has only three components: a capacitor, a roller inductor and a balun or RF transformer. The input circuits are isolated from the output circuits, resulting in a system, which is suitable also for single-wire antennas and coax fed antennas."
---
---
---
(There are currently no Blogs.)
---
We appreciate your donations to Heathkit DX-60 AM Net, because without them this site would not be possible.
You do not need a PayPal account in order to donate with your credit card. Just click on the Donate button below. You will be prompted for the amount you wish to contribute.
---