HEATHKIT DX60B CHASSIS REAR PANEL DECAL SET
Resources
0 Comments
12/08/2018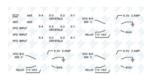 Radio Daze supplies the vintage restoration community with a set of unique items and services that are essential to completing a quality classic restoration. A key focus of ours is on our custom graphics design and fabrication capabilities which allow us to economically provided high quality printing in small volumes on a wide range of materials including glass, metals, plastics, etc. Based upon these captive resources, we provide a very large and ever expanding portfolio of reproduction dials, decals, faceplates and panels - nearly 2000 designs – for vintage equipment and items.
---
---
---
(There are currently no Blogs.)
---
We appreciate your donations to Heathkit DX-60 AM Net, because without them this site would not be possible.
You do not need a PayPal account in order to donate with your credit card. Just click on the Donate button below. You will be prompted for the amount you wish to contribute.
---