Programmable Oscillators - the modern day "rock"
Resources
0 Comments
12/09/2018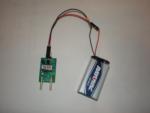 What about the guy who needs a crystal to bring an old radio to life, or for a homebrew project? The modern solulution is the programmable oscillator, which is an integrated crystal and PLL that is one-time programmed to your particular frequency from 1 to 125 MHz. Frequency stability is +/- 50ppm from -20 to +70 degrees C and these are not just crystals, they're complete oscillators-on-a-chip. All that's needed to obtain a 5 volt peak-to-peak output signal is power (+5 or 3.3VDC) at 45 mA and ground. And enable pin makes it easy to turn these devices on off (i.e. keying). They're available in several packages but the 8 pin DIP is a good choice for most ham projects as it can fit into a space no larger than an old style FT-243 crystal.
---
---
---
(There are currently no Blogs.)
---
We appreciate your donations to Heathkit DX-60 AM Net, because without them this site would not be possible.
You do not need a PayPal account in order to donate with your credit card. Just click on the Donate button below. You will be prompted for the amount you wish to contribute.
---