FT243 Radio Crystals
Friends
0 Comments
03/27/2019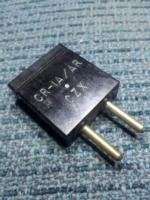 FT-243 crystals have pins spaced 1/2 inch apart, and are used in MANY ham radios made from
the 1940s through 1970s. They are also used in countless military sets such as the BC-611, TRC-77 and GRC-109 etc.
Note: Some of these are original FT243 crystals, some are reworked surplus units with
wire lead crystals inside as described in tube transmitter articles using them in CQ Magazine
and detailed technical analysis in Electric Radio Magazine.
---
---
---
(There are currently no Blogs.)
---
We appreciate your donations to Heathkit DX-60 AM Net, because without them this site would not be possible.
You do not need a PayPal account in order to donate with your credit card. Just click on the Donate button below. You will be prompted for the amount you wish to contribute.
---