HP-23 & HP-23A Rebuild Kits from W5KR
Resources
0 Comments
12/08/2019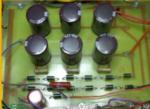 Welcome to Wk5r Circuit Boards where we Design and sell Upgrade circuit boards for the Power Supplies for most tube type amateur radio transceivers and amplifiers except Alpha and Harris. We also repair the Power Supplies and amps except for Alpha and Harris. These boards come Boards only, kit form, Completely assembled, or we can install them for you. The installed option requires that you make arrangements to get the equipment to us.
---
---
---
(There are currently no Blogs.)
---
We appreciate your donations to Heathkit DX-60 AM Net, because without them this site would not be possible.
You do not need a PayPal account in order to donate with your credit card. Just click on the Donate button below. You will be prompted for the amount you wish to contribute.
---