Hayseed Hamfest
Resources
0 Comments
08/30/2019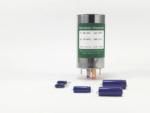 Hayseed Hamfest it the go-to for quality capacitors to replace your old electrolytics. The can electrolytic is far better than the original, and mounts in the original chassis holes. Also check out the RANVerter from Bob, W9RAN, which is offered at Hayseed Hamfest.
---
---
---
(There are currently no Blogs.)
---
We appreciate your donations to Heathkit DX-60 AM Net, because without them this site would not be possible.
You do not need a PayPal account in order to donate with your credit card. Just click on the Donate button below. You will be prompted for the amount you wish to contribute.
---